As the world nationally recognizes today Stress Awareness Day
As a Emotional Wellness Coach, I practice emotional wellness daily, and created a Emotional Wellness Mastery Program called Thrive In EQ to guide my clients to put Emotional Wellness on their to do list daily as priority every day!

Why? Just as physical health is a daily practice so is Emotional Health. It is Health!
Since the pandemic anxiety and depression has doubled in adults and in kids/teens, Frustrations and constantly having anxieties lead to burnout and can have undesiring effects on our overall health.
Impacting people's relationships, energy, focus, mental health etc.  
According to
stress.org
only 43% employees feel their Organization cares about their emotional well being in the workplace
1-3 kids are diagnosed with anxiety disorder by age 18, starting at age 6 years old. The 3rd leading cause of death is suicide.
Lets change the statistics by practicing Emotional Wellness Daily. Here's some tips how.
Tip #1. Discover Your Emotional Triggers:
Are you aware of your emotional triggers? We all have them.
✨An emotional trigger is anything, including memories, experience, or events that sparks an intense emotional reaction, regardless of your current mood.
✨To get to the root, Identify when you feel your body tense up and prepare to (flight, fight, freeze.)
✨Then with self-compassion and no judgment get curious about it And explore more
✅The goal is not to avoid, face them head on, do the hard inner work to get through the discomfort of them, so these triggers don't take over your life.
💪👊Here are some coping tools to have at the ready to help go from stress` to more calm, reset the nervous system, and feel more at ease!
▶️What can I add on the list? Share in comments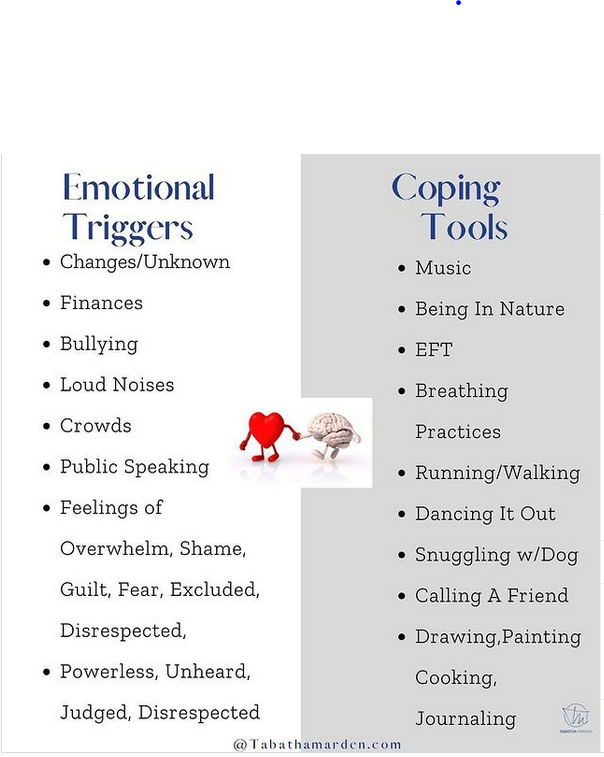 Tip:2 Journal to reflect and reframe your mindset:
Why do successful people add journaling as priority on their to do list daily as a morning routine?
▶️Because our thoughts create our feelings, our feelings drive our actions and decision making
▶️Fact: Just like your not your mind, your not your thoughts.
▶️Spending less than 15 minutes a day to reframe your self talk can change your overall wellness
❤️It's a tough vibe right now, all of us have a history of pain, trauma, stress, heartbreak etc.
▶️Whatever it might be it's important more than ever to reframe your negative inner bully thoughts
▶️Solution to show up with confidence as you desire to be in the world
▶️One of the key ways I help people reframe self talk is by investing in the conscious mind to develop a confident mindset
👉Here's how:👇
✅Brain dump all the negative noise in your mind onto paper daily (ie; I'm not good enough, I suck at this, You don't have the intelligence to do this etc.)
✅Ask yourself "Is this true?" "What is the evidence" as if your going to court to prove your case
✅Reframe your self-criticism as you would speak to a loved one and speak to yourself that way
✅Do this daily and see the shift in your mental, emotional wellness, relationships and focus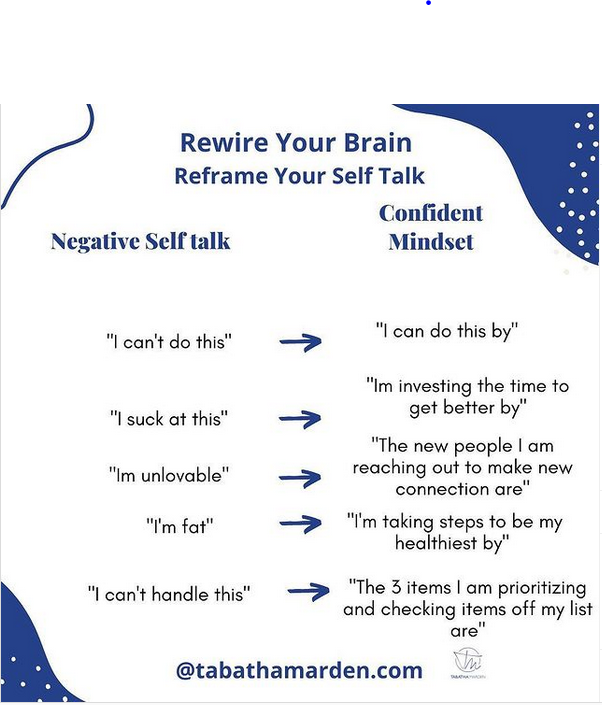 Tip #3:Increase Your Happy Hormones
Want to boost your happiness and feel less stressed?
Here's some tips to activate your "Happy Hormones"…Slide pics to view
Which hormone do you want to boost more of right now?
What can I add to the list?
Tip #4 Reset & Support Your Nervous System
These are the tools and strategies I coach in my emotional wellness mastery program called Thrive In EQ
 If you would like to dive deeper on stress Management and Emotional Wellness reply back to this email to schedule a FREE 1:1 discovery call
I strongly believe we are not meant to do life, parenting or business alone, together is better
-Tabatha Marden
Emotional Wellness + Leadership Coach
Instagram: @Tabmarden
Website:tabathamarden.com
Latest posts by Tabatha Marden
(see all)
https://tabathamarden.com/wp-content/uploads/2021/11/Stress-Awareness-Day.png
315
560
Tabatha Marden
https://tabathamarden.com/wp-content/uploads/2018/07/full_blackt-300x300.png
Tabatha Marden
2021-11-03 08:26:19
2021-11-03 09:35:08
National Stress Awareness Day...Tips To Stress Less, Create & Maintain Harmony In Mind, Body, Heart